Newbie
Posts: 9
Joined: Fri May 10, 2019 9:45 pm
MMOC Member: No
In the spring I replaced the swivel pins and trunnions on my pick up after 25 years service. Lots of us have done it and its not that difficult. But in March at the NEC I saw a guy struggling with a suspension change and where to put the jack under the trunnions to release the tension in the torsion bar. So I thought I put up a post showing the bracket I use to lift the suspension arm so that you can push out the lower trunnion pin. I use the same bracket to raise the suspension enough to get new grease in the trunnions. The bracket was made for me years ago and was bent using heat - not just cold hammered. The bracket is attached to the cast suspension arm once the pressed steel arm has been removed. The attachment uses the tie rod bolt and nut. The secret is to do it up so that it pinches but allows for movement when the jack is underneath.
Attachments

1569168743_tmp_IMG_0319.jpg (1.23 MiB) Viewed 1083 times

1569168687_tmp_IMG_0318.jpg (1.33 MiB) Viewed 1083 times

1569168655_tmp_IMG_0317.jpg (645.35 KiB) Viewed 1083 times
---
Minor Fan
Posts: 146
Joined: Sat Oct 04, 2014 9:59 pm
MMOC Member: No
hi mate
what is the size of 'special' tool ?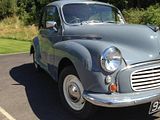 ---
---
Who is online
Users browsing this forum: No registered users and 2 guests