Digging in our garden I often find curious bits of metal and other things which have a motoring theme. The sticker below is not untypical, but it was the last sentence which had me curious - any thoughts as to what it might have come off?
Attachments

image.jpeg (44.81 KiB) Viewed 665 times
---
Minor Legend
Posts: 1296
Joined: Tue Jan 30, 2007 10:09 pm
MMOC Member: No
Sticker might have said:
My other car is a Bentley (or Rolls Royce)!

Alan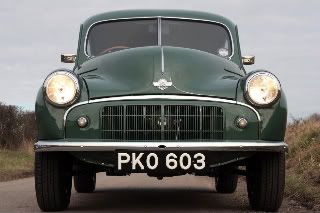 ---
Or...my other car is a Morris Minor
Morris Minors..... such fun
---
Ooh, I know this one!

It's the tab from a GB sticker from the AA. You can just make out the curve of the GB's oval shape. The AA headquarters used to be in Halesowen, as were Reliant (Reliance?) Printers who produced things like this for them.

I always thought it odd that such high-quality (or at least, high-value) motors should have paint that couldn't withstand the sticker for a fortnight's jaunt to Cannes.
Happy Minoring!

Phyllis ~ 1962 Morris Minor 4 Door Deluxe
Black coachwork with Red Duo-Tone Upholstery
---
So, were rollers and bentleys still using cellulose paint at the time?
---
I knew someone here would know.
thanks Gareth.
---
---
Who is online
Users browsing this forum: No registered users and 8 guests