I think it looks smarter and fresh with the black carpet and matches the interior as it should.
Today armed with my decent Role of carpet that I bought from the Malvern show at the weekend I decided to change the boot carpet in my Traveler. I removed all of the lighter coloured carpet and used as a template to cut the new carpet out as well as using Autosol to polish the alloy strips that fit on the floor/rear seat.
Attachments

IMG_20190412_105522.jpg (4.58 MiB) Viewed 922 times

IMG_20190412_105514.jpg (4.22 MiB) Viewed 922 times
Morris Minors..... such fun
---
I also managed to cut a piece of carpet that went round the fuel pipe that is inside the car and it hides quite well.
Morris Minors..... such fun
---
Minor Legend
Posts: 1296
Joined: Tue Jan 30, 2007 10:09 pm
MMOC Member: No
Very smart!
You going to put the old one on top to keep it looking good!

Alan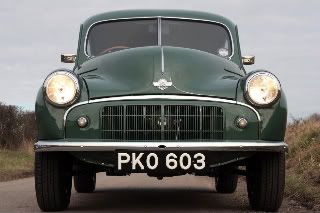 ---
Only when my Doggie wants to travel in the back
Morris Minors..... such fun
---
You should fit a nice stainless cover over the fuel tube...
taupe

wrote:

↑

Wed May 14, 2014 7:06 pm

Hi

My new axle perches arrived from ESM, they are fit for purpose …but are not the original pressings shown on their spares site so will be returned and I will have to fabricate a replacement or patch the old one… apparently original pressings have not been available for some time…

Talking of pressings I ordered a new ¼ LH front floor from ESM for my latest traveller and can confirm that they are a super fit and are now the correct thickness steel… Ill cut out what I need and seam weld it in..

Ive completed two more jobs on the traveller, first I made a new fuel pipe guard for the rear compartment…nice and shiney stainless steel !!!

Ive also obtained 22 ¼ BSF threaded brass inserts for fixing my rear wings.

The original fitment was an expanding steel insert. These new ones are screw in type and are less likely to corrode and stain the wood. I decided to fit inserts as I can then easily unbolt the wings for maintenance and with the large oval slotted holes in the wings as original there is some scope for final adjustments when fitting..

The last pic I tried one in the original hole..the woods a bit rotten but you get the idea...

Taupe
---
Wow I should stop looking at this post...I love the shiney fuel pipe cover I want one now it looks fantastic
Morris Minors..... such fun
---
Taupe,

I'd be interested to learn where you sourced the 1/4" BSF threaded brass inserts - they look useful fixings for timber framing.
---
---
Thanks Taupe - bookmarked for future reference, some interesting products.
---
---
Who is online
Users browsing this forum: No registered users and 2 guests