Having trouble locating the paper type oil filter element for my `52 MM.Anyone know where to get one?
Thanks,John.
Power to your Pistons,Johnnydoome.
---
I've a funny feeling that I used a 1098 filter in mine. I may be wrong, it's just that I don't think I've ever purchased a specifically MM one. Later today I'll look through the part numbers, unless someone else comes along with the answer before then.

WRT the screw-on, I saw those Tractor units and the advertised filter canister looked too long but there are shorter ones available. Did you get anywhere with those? Cheapest cast alloy filter head was about £11, with postage.
Cardiff, UK
---
Series MM Registrar
Posts: 10184
Joined: Sun Jul 24, 2005 11:39 pm
MMOC Member: No
The Series MM uses the same oil filter as the 948/1098 engine
[sig]3580[/sig]
---
Thanks for that, Mike.

Out of interest, reading the Service Parts List for the MM...

918cc Purolator filter assembly uses part number 300509
918cc A.C.............................................. 30860
948.............................................. 8G684

...but it seems they are all interchangeable.

I have an oil cooler adaptor here that screws between the block and the oil filter head. Filters first then runs it through a cooler before entering the block. Engine used to be raced extensively in N.Z.
Cardiff, UK
---
Hi all
My car now has a remote spin on filter however if you have access to a Ryco dealer the Ryco part no. for a MM filter element is R2180P.
Bob
---
Any chance of some photos of your car(s), Bob?
Cardiff, UK
---
Rob
I only have one Minor. Have attached some pics taken by my club President and put into the club mago. He described it as a wolf in sheeps clothing.
Bob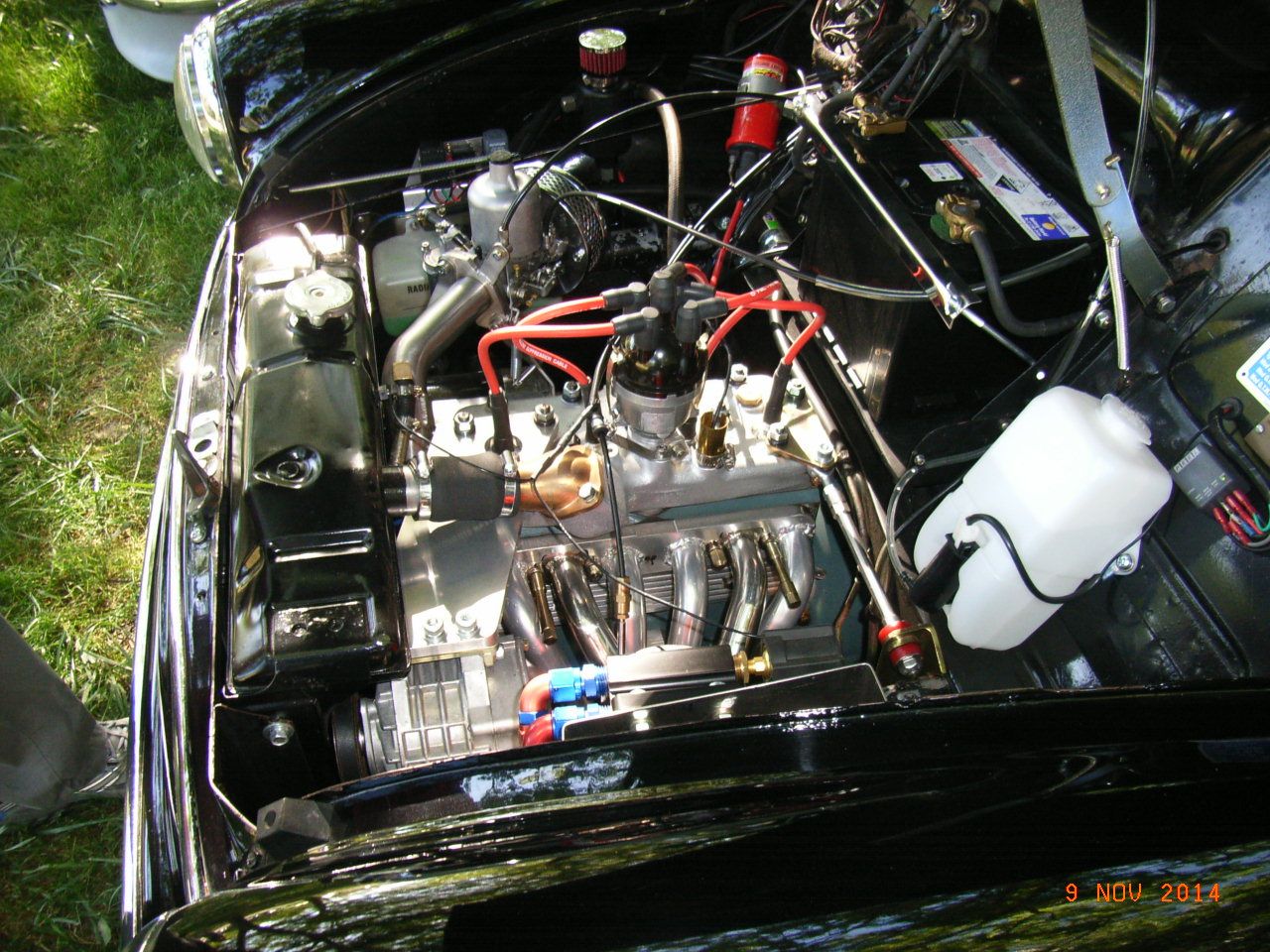 ---
Is that an Aisan blower? We don't get to see them in Europe.
Cardiff, UK
---
Sure is. Designated AMR 500 because it's displacement is 500 cc's per rev. Driven at 1.936:1 gives boost of 15.2 PSI (a bit over 1.0 bar). They are available on ebay or from the dealer in the states where I bought mine new.
Bob
http://superchargersunlimited.com/specs.html
---
---
Who is online
Users browsing this forum: No registered users and 4 guests