Moderator: Moderators
---
Minor Fan
Posts: 398
Joined: Thu Sep 30, 2010 4:34 pm
Looking good!
Will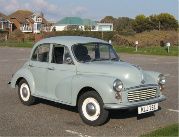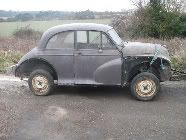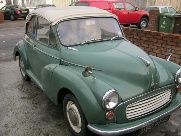 ________1967-Lily________________________1963-Phoebe_______________________1965-Dobby_________
---
Yeah, not bad. I need to open out the inner bore to the right size and drill the mounting holes before making good the flange where it sits on the head. If it all fits OK then I can get the other 5 made.

Shouldn't be long.

Next job is that rocker cover.

Rob
---
Alta head is off for a leaking valve. Good news is that there is almost zero corrosion, the valves and associated gear look to be in mint condition and the bores are +40 with little sign of any wear at all. Phew!

I need some new head studs and nuts and some Shellac to seal the head stud covers to the block. Is there a modern replacement material?
---
Wellseal
John
---
Ahhhhh, the VW engine casing stuff. Thanks.
---


Oops. Spoke too soon. Mostly it is in great nick but there is one area of corrosion where it looks like there has been some localised boiling next to the rear spark plug hole. Bu66er!
---
Minor Maniac
Posts: 5283
Joined: Thu Jul 19, 2012 12:05 pm
Location: Hampshire
Rob
Bad luck.
Unless you can be sure that welding is not going to distort the casting I would be tempted to clean up the corrosion and use some heat resistant aluminium putty to effect a repair.
I have not used this product but it seems to tick all the boxes.
http://www.prkntekindia.in/index.php/pr ... al-casting
Phil
---
The corrosion looks like it might go right through to the spark plug hole and into the chamber so it'll have to be a weld. I assume Birmidal is a high-silicon ali and will weld with 4043 rods but have got someone checking for me. If I'm careful I can weld just enough to get the strength back near the plug hole and then use something like Lumiweld if there are any last bits needing filler.
I did look at some Belzona repair putty but it is still only goes for about 220 degrees C, like that other stuff. Might get hotter than that near the plugs?

Wife is out tomorrow. Head going in the dishwasher!
---
Just got a quote for a batch of Alta valves. Anyone need some?
---

Also this Alta is missing the water pipe....
So can I put my name on the list?
MM '51 LHD sidevalve
---
Might be a bit too late to get another one added to the production line. I'll try when I next speak to the casting company.
Next order for them won't be for another 50 years!
Alternatively, I can make them from welded-up sections, or you could sell me the Alta you've got????
---
Final invoice has come in for the Alta water castings. It works out at £58.20 including postage to the mainland UK. They are spoken for, so long as everyone who wanted one still wants them. There is now one more person wanting a casting if someone wants to drop out.

Cheers

Rob
---
---
Return to "Series MM Register"
Who is online
Users browsing this forum: No registered users and 1 guest