Thought I'd post some pics up of the finished article.......
Thanks again for all of your good wishes and advice....
Peter Gisby.
---
Minor Fan
Posts: 391
Joined: Thu May 12, 2005 9:59 pm
MMOC Member: No
Cant believe how stupid I am, I have just understood why it is called Puddles.
Traveller rebuilt in 2007 by Charles Ware's Morris Minor Centre
Pickup Fully restored 2011 by Rich Legg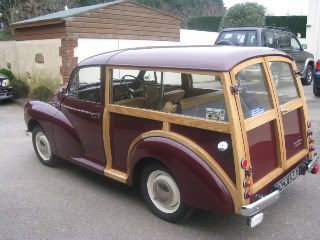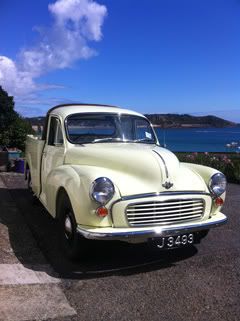 http://WWW.minor1000.com
http://www.morrisowners.co.uk/
---
Ok..... After two years of pretty good motoring it is time to upgrade a few items..... Namely the engine, carbs and gearbox from an MG 1275 replacing the 1098 units which will then be placed into my saloon........ I'll also be re-bushing the front suspension with poly, and possibly new front seats.... So instead of starting a new thread I thought I'd just update the one I had when I got her back on the road........

So first questions first......

I'd like to keep the minor rod clutch with the 1275 units and have read a lot about this and it appears that I'll need to extend the arm on the linkage to stop it becoming heavy.... Does anyone have any pictures of a modified one so I can get an idea of what I need to do...

Also are there any other gotchas I need to be aware of before swapping over the setups?

Pictures and updates will follow shortly.....
Peter Gisby.
---
---
Who is online
Users browsing this forum: No registered users and 1 guest