Sometime ago I made inlet manifolds for my sidevalve and these accommodate a pair of the original carburetors. This seems to work well enough giving unfathomable horsepower!
However I connected the manifold stubs together with a small ID pipe with a 'T' take off for a vacuum gauge which results in a pulsing gauge needle - it wrecked the gauge.
I picked up another gauge at an autojumble to replace the busted one but I am planning on fitting some sort of damper/chamber in the pipework before the gauge in an effort to smooth out the pulses, has anyone gone this route or is there a better way?
High accuracy is not required, I just don't want to wreck another gauge!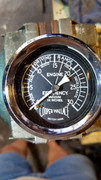 Alan