Minor Maniac
Posts: 9266
Joined: Thu Jul 19, 2012 12:05 pm
MMOC Member: Yes
---
Very interesting but I've never heard of it.............
What is it meant to do, for example?
Best wishes,
Mike.
1954 Series 2: 4 door: "Sally" -- on axle stands needing more welding......
1955 Series 2: Traveller: "Elsie May" -- on the road and enjoying her 'as is' for now but I see work ahead......
1970 Triumph Herald 1200: "Hetty" -- driven back from Llangollen in Wales
---
I've seen modern oil pressure primers available from the US and at least $150.

I believe they are pumps to raise your oil pressure up before starting, preventing wear due to the few rotations necessary before an engine driven pump has gotten there.
68' 4-door Saloon, another 'Monty'.
---
Minor Maniac
Posts: 9266
Joined: Thu Jul 19, 2012 12:05 pm
MMOC Member: Yes
Puts a charge of oil into the oil galleries when the ignition is switched on.
Whoever bought the Stack system had a bargain as the equivalent 2 pint Accusump oil pump accumulator with electric valve is £500.
---
How do you find these things Phil!?
68' 4-door Saloon, another 'Monty'.
---
Minor Addict
Posts: 895
Joined: Wed May 16, 2018 10:49 pm
MMOC Member: Yes
Very useful additions?
---
They're basically small pumps to get the engine lubricated before you turn it over.
I didn't know they were available for cars back in the day, they're a common modification for vintage piston engine aircraft.
You run the pump to get the engine lubricated before starting, to save engine component wear from turning it over dry.
I think the difference between the STACK system that was on ebay and the Accusump that Phil mentioned is the STACK looks like just an electric pump to run for a minute or so, whereas the Accusump is actually a charged accumulator of oil, hence the large price difference.
https://www.merlinmotorsport.co.uk/know ... y-work-281
Last edited by
geoberni
on Mon Jul 26, 2021 1:12 pm, edited 1 time in total.
Basil the 1955 series II
---
Minor Legend
Posts: 1380
Joined: Tue Jan 30, 2007 10:09 pm
MMOC Member: No
Many moons ago on a previous Triumph car (Toledo) I fitted a system consisting of a pressure chamber which when the engine was running it charged and pressurised the chamber under engine oil pressure.
This was fed in at its base so the top of the chamber had a charge of compressed air within.
After the engine had run for 30 seconds a solonoid valve shut the supply off. Starts after that operated the solenoid valve and put the oil charge into the engine galleries.
Appeared to work ok with virtual instant oil pressure but not sure it added a great longevity to the engine?
I use engine coolant pre heaters on our vehicles.

Alan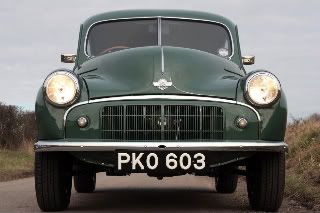 ---
Minor Legend
Posts: 2571
Joined: Mon Dec 12, 2011 7:20 pm
MMOC Member: Yes
An interesting gadget, I wonder how you'd plumb it. The main wear when starting up from cold is to the cylinder bores as the rich mixture washes off oil and until the engine starts running they don't get lubricated. This is why upper cylinder lubricant was so popular once upon a time.
Basil
---
Perhaps run the feed into the oil priming plug hole, or a oil cooler sandwich plate (non-thermostatic) on the filter housing.

Failing that, tap some oil galley plug holes?
68' 4-door Saloon, another 'Monty'.
---
Thinking about it I can't figure how that little thing would contain a motor capable of building any pressure in a viscous fluid like oil.

Perhaps the electronics just operate a valve (needle & ball), releasing pressure stored from the last time the engine was producing it, much like the modern systems?

If so it would be relatively simple to build one of these out of an oil filter canister.
68' 4-door Saloon, another 'Monty'.
---
Minor Legend
Posts: 1380
Joined: Tue Jan 30, 2007 10:09 pm
MMOC Member: No
I used a spent gas cylinder and the solonoid was piped into the oil pressure gauge take off point which came from main oil gallery.

Alan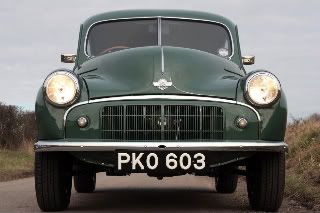 ---
---
Who is online
Users browsing this forum: No registered users and 1 guest